#4 Louisville (12-1) vs #3 Kentucky (12-1)
Rupp Arena, Noon, CBS
"When I got here, It was either blue or red," Louisville Guard Peyton Siva said, " You can't wear blue...Or if I wanted to have a blue car, I couldn't have a blue car...It was just crazy"
Craziness to some, seems like second-nature to fans in the Commonwealth. When you are born in Kentucky, their is no in-between...you are either red or blue, and fans that say they like both are simply lying. Louisville vs Kentucky is not only the best rivalry in college basketball, it's also the most heated one. When the two face off today, It will be the first time that both teams have been in the Top 5, adding gasoline to an already inextinguishable flame. It will also set the stage for one of the most epic contests of the series.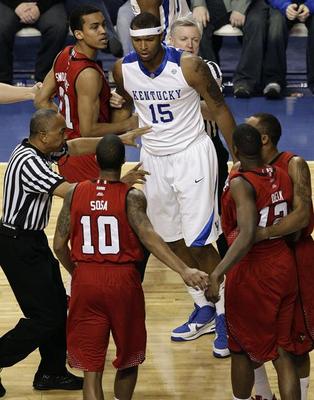 The Coaches:
There is no love lost between coaches Rick Pitino & John Calipari- they don't like each other. Their disdain for each other is as apparent as the great divide of red and black that you will see in Rupp Arena today. It was even made more apparent when the two made the following statements in the off-season: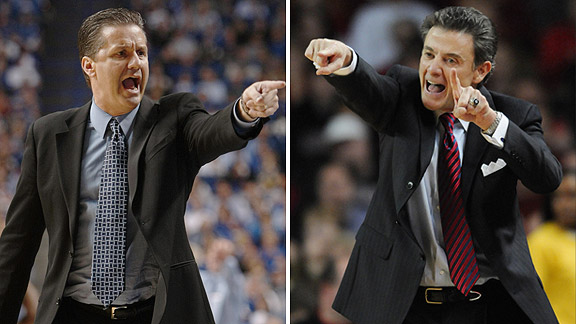 ""It's a unique thing," Kentucky Head Coach John Calipari said. "There is no other state, none, that's as connected with their basketball program as [Kentucky]. Because these other states have other programs. Michigan has Michigan State, California has UCLA, and North Carolina has Duke. It's Kentucky throughout the state and that's what makes it unique."
Quite to the contrary, Mr. Calipari. Louisville is very much a part of this state, the fact that you acknowledged this, proves so. Could evidence of this be the state-of-art arena that was just built, home to whom? Maybe the fact that that Louisville vs Kentucky sold out months in advance? Who would buy tickets months in advance to a game that didn't feature two marquee opponents? Yes, Cardinal national is very vibrant in the state of the Kentucky and Pitino envy is at an all-time high.
Pitino's response:
"Four things I've learned in my 59 years about people," Head Coach Rick Pitino stated. "I ignore the jealous, I ignore the malicious, I ignore the ignorant and I ignore the paranoid."
C'mon Pitino. You don't ignore Calipari, you know everything he does. You are envious of the recruits that he nips away from you each year. You are even more envious of the way he has owned you in this series. Like your counter-part, the fact that you make a statement about him, shows that you are do not ignore Calipari. But, as we all know, Rick Pitino has been known to tell a few tall tales.
Rick Pitino, is the only coach to ever take three different teams to a final four, Calipari is the only coach to have two final fours vacated. Each of them are both Hall of Famer's and reasonably so. However despite past results, Rick Pitino is the better X and O's guy.
The Match-Ups:
PG: Marquis Teague vs. Peyton Siva
Marquis Teague, may be the most criticized point guard at Kentucky in recent history, he his shown to be very turnover prone, especially against teams that press well- like Louisville. He has more turnovers than assist in 5 of his 12 games this season. However, he has been able to limit his turnovers when on the big stage, with just 1 against North Carolina.
Peyton Siva has been quite the enigma for the Cardinals this year.
He has shown he can play like the Point Guard Louisville needs him to be, with his performance against Memphis (13 points, 9 assists) and Georgetown (15 points, 9 assists), not to mention hitting a game-winner against Vandy. However, he has also been nonexistent at times with 1 point against Charleston.
This is one of the biggest match-up's of the game, particularly for the Cardinals, who must win this battle to have a chance. Teaque will have to stay in front of Siva, as Siva is probably a few steps quicker. Both teams have question marks at this position, but I feel the Cards have less and I'll bet against a Freshman with a Junior in a rivalry game any day of the week.
SG: Doron Lamb vs. Chris Smith
Doron Lamb is straight up shooter. He is shooting a sparkling 50% from beyond the arc. When the Wildcats have needed to combat runs by opposing teams, Lamb has filled the void. With three 20+ scoring games, Lamb has shown that he can put up points. If there is one hole in his game, it's that he doesn't shot enough. At times he's been timid beyond the arc, firing only 3 or less shots in 7 games, and that can not be the case, if the Wildcats hope to win.
Likewise, Chris Smith has shown he can fill up the bucket at times this season. With a 19 point performance against IUPUI and a 18 point performance against Long Beach State. However, Smith has seemed to disappear on the big stage with only 1 assist and 5 points against Vanderbilt and a 4 point, 1 rebound performance against Georgetown.
The Cardinals would get a big lift if Chris Smith can shot well against Kentucky. But I think he will have a hard time getting open against a faster Doran Lamb. I feel that this is must-win match-up for the Cats and Doran Lamb shots 50% for three-point land. Need I say more?
SF: Michael Kidd-Gilchrist vs. Kyle Kuric
Micheal Kidd-Gilchrist, is a freak athlete. With six straight double figure scoring games, the 6'7 SF from New Jersey has shown why he was so hyped up during the off-season. There are no glaring weaknesses with his game, despite the fact that he struggles with his shot as times. However, Kidd-Gilchrist has been to known to get into foul trouble.
Kyle Kuric, has an outstanding basketball IQ and makes up for what he lacks in size with heart and smarts. He is an outstanding defender, and will be able to draw a few offensive fouls aginst Kidd-Gilchrist. Kuric has also shown to be great shooter, at times, shooting 35% from beyond the arc along with 7 straight double figure games.
This will be the biggest match-up surprise of the game. Gilchrist is longer and more athletic than Kuric. However Kuric has shown tremodous grit at his career at Louisville. Kuric will be able to go toe-to-toe on the glass with Gilchrist, and I believe his smarts on defense will cause Gilchrist to be taken out of the game early. The Senior Captain for Louisville will live up to the title today.
PF: Terrence Jones vs. Chane Behanan
Terrence Jones, may be the biggest question mark for the Wildcats. He has seemed to disappear at times recording only 4 points and 1 rebound in a loss against Indiana. But he has also proved to be a dominate force at several times during the season. It's uncertain how healthy Jones is as well, playing in only his second game since he injured his pinky against Samford.
Head Coach Rick Pitino calls Chane Bohanon the best Power Forward he has coached "since Jamal Mashburn". Early in the season he lived up to the hype with huge performances, however he has seemed to tapper off a bit as the Cardinals have faced tougher competition.
This is the most intriguing match-up of the game. Bohanon will give Jones trouble with his physical play, likewise Jones will give Bohanon trouble with his phenomenal athleticism. Jones healthiness will also be tested facing Bohanon, whom will be the x-factor for the Cardinals. For the Cardinals to pull of the upset, Bohanon has to win this match-up
C: Anthony Davis vs. Gorgui Dieng
"Fear the Brow" has been the battle cry for the Wildcat faithful, and their has been much to fear when it comes to Anthony Davis, who may be the nationals most talented big man. Aside from his great shot-blocking ability, Anthony Davis can really fill it up. But like Terrence Jones, he has been MIA on the big stage, with only 6 points against Indiana and 7 against North Carolina (although he did come up with the big block to end the game). However, even in his down performances, one thing has remained a constant- rebounding success.
Gorgui Dieng, is the most consistent player for the cardinals- at least as of late- he had recorded 5 straight double-doubles before snapping his straight in a loss to Georgetown. He Has been prone to fouls this season. Although he has only fouled out once, he has got into foul trouble early in games; causing him to miss considerable minutes.
This will be a great match-up. Dieng is big and strong, while Davis is quick and long. Anthony Davis will need to use his quickness more than ever against Dieng. Dieng will need to shoot over Davis, as he is a great shot-blocker. This will be the toughest match-up for either player this season. Both of these guys will need to go forty minutes for both teams.
Final Thoughts:
Louisville will need to be hitting their shots against Kentucky , it's a simple as that, for Louisville to beat a more talented team in Kentucky they will have to, free throws as well. If Kentucky is on fire beyond on the arc, it will be a long day for the Cardinals, Kuric will need to make sure he stays out on Doran Lamb. Both big man need to stay out of foul trouble for each team, if either Gorgui Dieng or Anthony Davis miss a critical amount of time, it may cost them the game. The critical moment for Louisville will be the first 5 minutes. Can Louisville withstand the early on slaughter from Kentucky? Rupp Arena is sure to an electrifying atmosphere. Louisville has to find a way to neutralize the scoring of Doran Lamb. While, Kentucky will have to stop Peyton Siva from getting to the rim.
Kentucky is a 12 1/2 point favorite, something tells me it will much closer than that.
Follow me on Twitter (@_ChrisHatfield) or E-mail me at chris.hatfield@louisville.com