So back in April I get this email titled "M.I.A." and it's from ex-vocalist Chris Shewmaker from Flatlyne, a once popular original Louisville metal band that disbanded in 2004. The only message he sends is "I think I found Chris Shewmaker (ex-flatlyne)…" That's it. No phone number left and no return email from him since.



Flatlyne in 2004 - Photo by Jason Ashcraft

Coincidentally, this email came a short time after I published a review of the Louisville Music Showcase 2010 event in which at some point during the review I referenced how I wish Flatlyne would get back together and be invited to be a part of the next LMS event. Now that review on LMS had also just published a few weeks after I had spoken with Flatlyne's bassist, Tony Lee, and he specifically had commented how nobody in the band really knew where Chris Shewmaker was or what he was doing. The only thing that was speculated is that Shewmaker had headed south, perhaps to South Carolina soon after Flatlyne split. Well, based on his email signature, I can confirm that. West Columbia, South Carolina to be exact. Now, here we are today, 8 months after that review and email, and a Flatlyne reunion show is now upon us. They'll be taking part of a reunion event with other once-popular original metals acts My Own Victim, False, Faceplant, Kallus and Incursion this Friday, December 10th at Headliners Music Hall. A beast of a reunion show for the metal scene.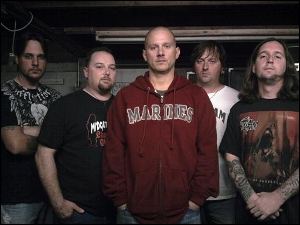 My Own Victim - File Photo

My Own Victim, self-proclaimers of being true Kentucky Hardcore, lead on vocals by fellow Jarhead David "Sailor" Bryant, will be your headliner and biggest draw for the evening. I'll give Flatlyne a close second in terms most unlikely band to reunite, although they will likely be the opener for the show. But for that select group who used to get down with the F, this reunion show will prove to be an unforeseen opportunity to once again hear a band that was one of the top original never-left-Louisville bands to ever form.

Now I'll just tell you up front that much of this show will be filled with vicious and intense instrumentation, with some of the artists literally assaulting their instruments, coupled with cookie-monsterish like vocals. There will be a few exceptions here and there from song to song, and band to band, especially with Flatlyne. A mosh pit may even erupt from time to time if the security staff tolerates it (just help each other up boys), which I doubt they will. No pun intended to any one performing artist on this bill by my pointing this out. They were all exceptionally good at their musical style and all of them amassed sizable fan bases, which I anticipate will pack Headliners to capacity as a result.

My only wish for this event is that newly reunited Factor9, another staple in that music scene six to eight years ago, would've also been part on this show. Rumor is that Factor9 will be recording some new material again after a recent performance together at the Rock For Kosair charity event they recently played. With all the first-time-in-many-years performances slated for this show, who knows what may turnabout after this thing blows over. This may just be the beginning of what once was, cause I doubt any of these guys are going to sell there instruments and totally quit playing something they obviously haven't forgotten about.

My Own Victim/Flatlyne/False/Faceplant/Kallus/Incursion
Friday, December 10th
Headliners Music Hall
1386 Lexington Rd.
7 pm
18 and up
$10

Jason Ashcraft is a freelance music writer who focuses on Kentucky's original music scene. Visit his blog at www.TheScuttlebuttHour.com